Konduktiva sandaler av hög kvalitet som jordar dig stilfullt och bekvämt.
Den senaste generationen av jordade sandaler, med en helt ledande formad sula. Sulan är gjord av ett specialutvecklat material,
TerraMater Footwear®
, som jordar hela foten (tidigare varianter använde en "plugg" av kol mitt i sulan). Sandalerna är effektiva på de flesta underlag utomhus, som gräs, jord, sand och cement.
De mindre storlekarna har plastrem i valet av 3 mattfärger: silver, svart eller guld.
De större storlekarna har ett tygrem i rött, orange / grått eller lila / grönt.
Klicka på bilderna till vänster för att se dem större.
Formad jordande sula där hela ytan är ledande.

TerraTread™-sula med bra grepp.

Slitstarkt TerraMater Footwear®-material.

Helt tvättbara (med tvål och vatten).

Hög kvalitet, tillverkade i USA.


Se video med produktinformation
Storlekstabell:
| Storlek | UK | Europa | USA | Australien | Fotlängd |
| --- | --- | --- | --- | --- | --- |
| S | 2-3 | 34-35.5 | 4.5-5.5 | 3-4 | 217-225 mm |
| M | 3.5-4.5 | 36-37.5 | 6-7 | 4.5-5.5 | 229-238 mm |
| ML | 5-6 | 38-39 | 7.5-8.5 | 6-7 | 242-255 mm |
| L | 6.5-7.5 | 40-42 | 9-10 | 7.5-8.5 | 255-263 mm |
En något större storlek kan vara lämplig om du har breda fötter. Ett annat alternativ är
Groundals Plus
, som har en bredare passform med remmar i tyg.
Du kan också skriva ut dessa storleksguider för att avgöra lämplig storlek:
| | | | |
| --- | --- | --- | --- |
| Strl S | Strl M | Strl ML | Strl L |
Viktigt: När du skriver ut storleksguiderna, kontrollera att skrivaren inte är inställd på att anpassa, förstora eller förminska storleken. Efter att du skrivit ut, jämför skalan på utskriften med en linjal för att vara säker på att sidan skrivits ut i rätt storlek.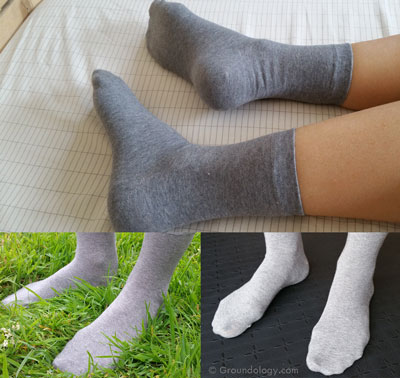 Premium quality conductive socks with the highest silver content on the market. This means they are highly conductive, with strong anti-bacterial and anti-fungal properties.
They will ground your body while keeping your feet warm, when:
standing on a grounded surface like outside,

placing your feet on a grounding mat,

sleeping on an earthing sheet,

used with a heel strap (which transforms any shoe into a grounding shoe).

Silver has the highest reflectivity rating of any metal element which means it reflects external electromagnetic frequencies, but also reflects heat from the body (infra-red radiation) back towards the skin. This means the socks feel warm in cold conditions, while still being lightweight and ultra comfortable to wear.
Silver is also a very effective natural anti-bacterial and anti-fungal agent: it kills bacteria that produce odour, bacterial infections which can cause eczema, and fungal infections such as athlete's foot (Candida Albicans).
Do not confuse our Grounding Socks with other cheaper 'silver socks' on the market – most of them have a very low silver fibre content. Our socks have the highest silver content on the market (22% silver fibre). Composition: 50% cotton, 25% nylon, 22% silver fibre, 3% spandex.
The socks are light grey in colour (the colour variation in the photos is due to different lighting conditions).
Please refer to the table below to choose the correct size:
Size
Women's sizes
UK
Europe
USA
Australia
M
5-8
38-42
7-10
6-9
L
9-12
43-47
11-14
10-13
Size
Men's sizes
UK
Europe
USA
Australia
M
5-8
38-42
5.5-8.5
5-8
L
9-12
43-47
9-13
9-12
Washing and care instructions
DOs
Wash in a washing machine with warm water (40°C / 105°F)
Use a liquid laundry detergent
Line dry or dry in a dryer on low (up to 65°C / 150°F)
Can be ironed on a low heat if desired
DON'Ts
Don't wash with bleach
Don't wash with fabric softeners
Don't use whitening detergents, oxi-detergents OR detergents with oils like lavender
Don't use dryer sheet fabric softeners
Don't dry clean
Bleach, lotions and oils can tarnish the silver rendering it non conductive. Fabric softener builds up on the silver and also ruins its conductive properties.
If using lotions or oils on your feet, it is advised to wait one hour before wearing the socks.

This heel strap converts any shoe into a grounding shoe. You will then be grounded when standing on any conductive surface, such as grass, earth, sand or concrete.
Simply slip the conductive rubber heel strap over the outside of the sole of your shoe, securing with the adjustable quick-release strap, and then tuck the conductive ribbon into your shoe or sock to connect with your skin.
Wearing our
highly conductive grounding socks
with your heel strap improves the connection to your skin and also means you only have to tuck the conductive ribbon into the top of your shoe, rather than inside your regular sock.
One heel strap (grounding through one foot) is enough to ground your entire body, especially when used together with a grounding sock.